Your BLUE go-to in open access-control hardware



Ready to Ship
Azure Access has stayed ahead of the curve on supply chain issues.
Azure Access has stayed ahead of the curve on supply chain issues.
All available products are shipping with standard lead times!
BLU IC Family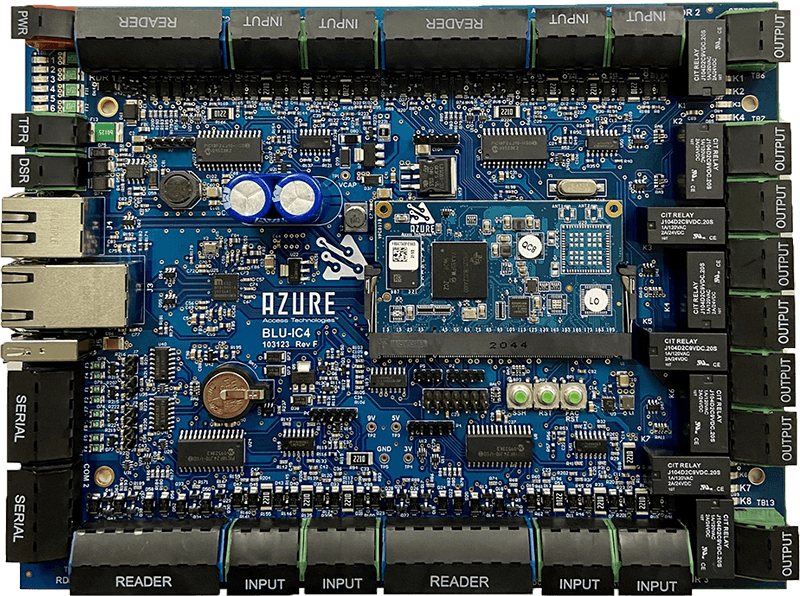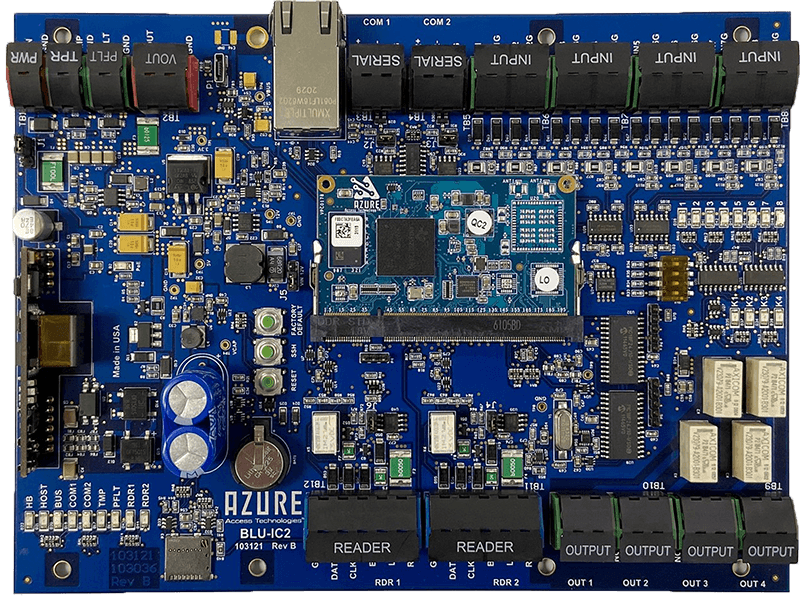 Azure IC Boards are Open and equipped with features not found anywhere else.
Designed to withstand the test of time, the Linux OS Azure Access Intelligent Controllers are an Open Architecture equipped with features, speed, and capacity that are unmatched by similar controllers on the market. The BLU-IC2 is available with PoE+
Downstream Board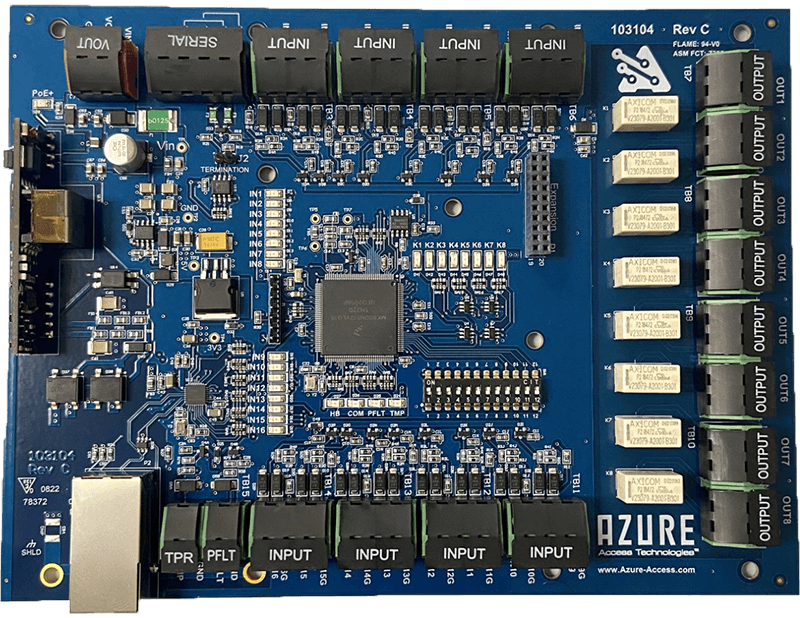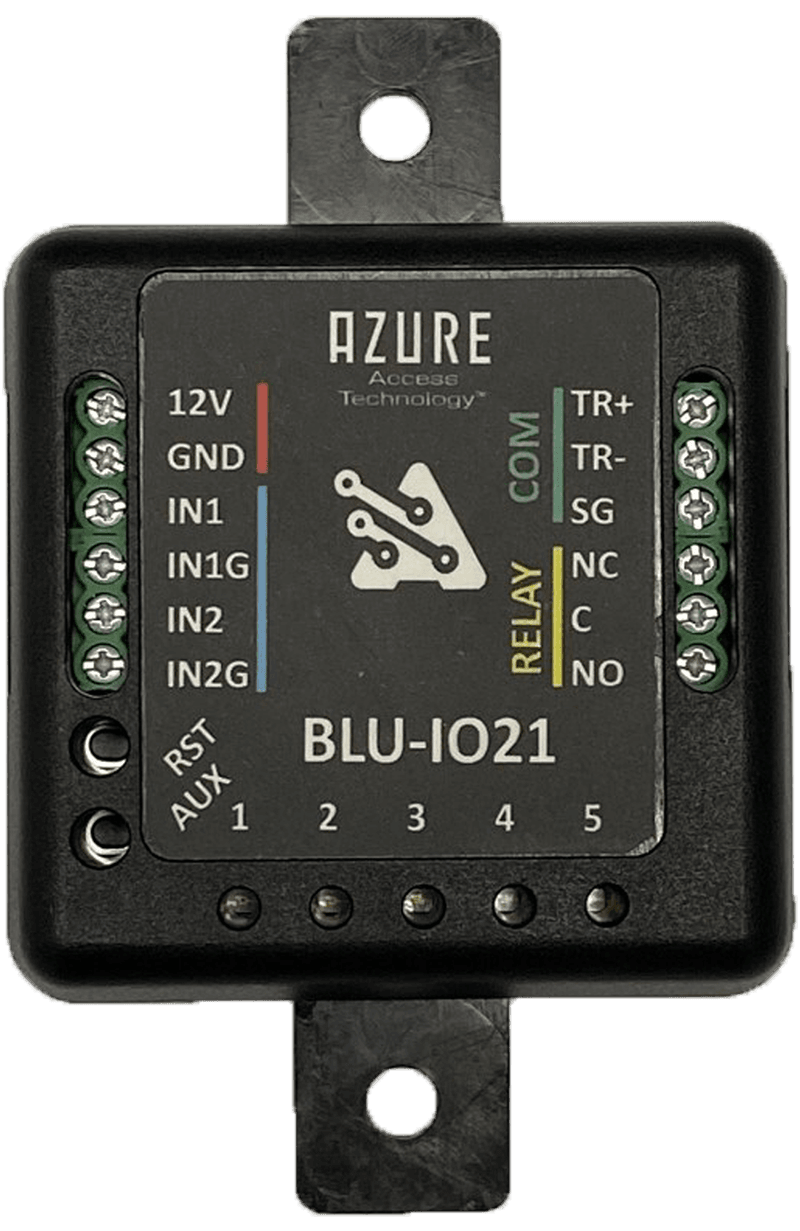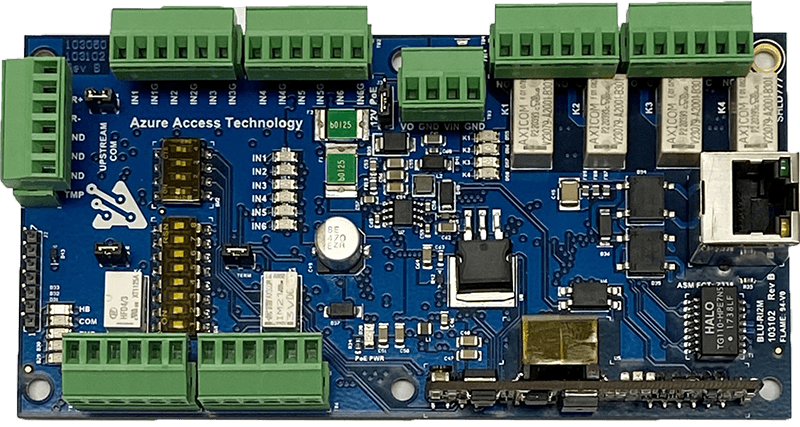 Expand your system with our serial or network IO and Reader Interface Module
Expand your system with serial or network connected IO and Reader Interface panels. PoE+ assembly options available.
It's time for something new…
Introducing Azure Access Technology
TM
: the next-generation alternative in open access-control hardware. While the name may be new, our company is built on 30+ years of industry experience, defected employees from competing companies, and years of customer feedback. We deliver the most future-proof, reliable, and easy-to-use hardware platform in the industry. Our company focuses not just on products, but also superior support of our customers; from the start of the integration stage, all the way through deployment to end-users. All our products are designed and manufactured in the USA and our direct management of component procurement has kept us ahead of the curve in the current supply-chain environment. We are proud to say that unlike our competitors, our products have continued to be available to ship!
A true BLUE breakthrough
Advanced.
While competitors have continued to refactor legacy access-control architecture into "new" products, we took the time to redesign our platform from the ground up. Our products use the most powerful microprocessors and supporting components available and our controllers run a fully-leverage embedded Linux OS enabling unmatched capabilities now and into the future.
Easy.
We emphasize ease of integration and providing maximum interoperability. We provide a proprietary SDK (available in multiple coding languages), an ADK for developing on-board embedded applications, and supporting documentation plus example code. Our Partners also have access to an internal knowledge database and forum, a responsive local technical support staff, and in-person training at our HQ. Our hardware is certified z9/op=n, further expanding the range of potential integrations.
Flexible.
Our hardware topology can be spec'd and configured to meet any installation need and offers the lowest cost-per-door possible. Firmware features such as user-developed/user-deployed embedded applications, custom logic Scripting, and configurable interface-mapping allows customers to give themselves an edge without modifying firmware or needing support from us.
Let's talk.
We invite you to be a part of the next generation of access control. Let's continue the conversation…
Or join us and become a part of our fast growing company…